In Harmony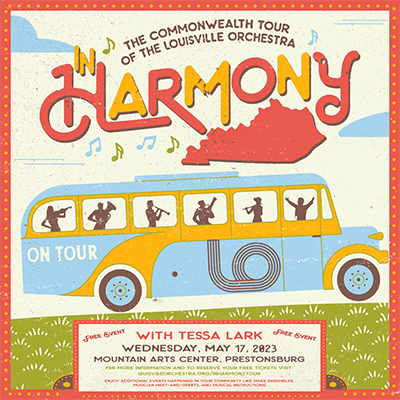 The Louisville Orchestra's historic "In Harmony" tour is a two-year musical journey beginning in May of 2023 that will bring orchestra musicians to dozens of communities across the Commonwealth of Kentucky. The LO will be performing works that appeal to audiences of all ages and tastes in music and reflect the rich musical heritage of our state, featuring homegrown performers and compositions in every venue. Intended to bring economic and artistic prosperity to all parts of the state, "In Harmony" is not just an exciting performance tour. This ground-breaking initiative will allow the LO musicians and staff to meet people where they are and explore the arts through musical and educational collaborations with local musicians, artists, schools, and community organizations. Music Director Teddy Abrams explains,

"Art and music transcend geographic boundaries. We couldn't be more excited to share our treasured work with our fellow Kentuckians in their hometowns and home counties."

"In Harmony" will live up to its name, uniting the people of Kentucky from all walks of life through the universal language of music.